#EnzoaniRealBride: Carly & Sebastian
09 Oct 2016
Our #EnzoaniRealBride2015 Contest Winner Gets Married!
THE DRESS
"When I was looking at dresses at Blush Bridal Couture, they helped me choose over 10 dresses to try on. Ironically, the Kerianna dress was the very first dress I tried on. When I slipped the dress on in the dressing room, I was taken aback by its beauty, detail, and perfect fit. 
"I immediately fell in love with it and turned to Amira, one of the consultants at Blush Bridal who was helping me, and whispered, 'I think this might be it.' I then walked out to show my family and friends and my mom started crying. I proceeded to try on the other dresses, which were all amazing, but I knew from the beginning that the Kerianna had my heart." 
THE LOVE STORY & PROPOSAL
"You guys already know it =)"
Read Carly's contest-winning proposal story HERE!
THE WEDDING DAY
"I think my favorite wedding day memory was walking down the aisle toward Sebastian. The Hyatt is a gorgeous hotel, and they had me hidden until it was time to be escorted by my dad. They opened these huge glass doors and there I was, facing all of the people I loved and staring back at the most important person in my life." 
"I felt like such a princess with everyone's eyes on me and with my incredible dress sparkling in the sunlight; then to look up and see Sebastian staring back at me with such tenderness and eagerness in his eyes took my breath away. 
"That entire moment was the exact vision I'd pictured for years growing up and it was absolutely perfect."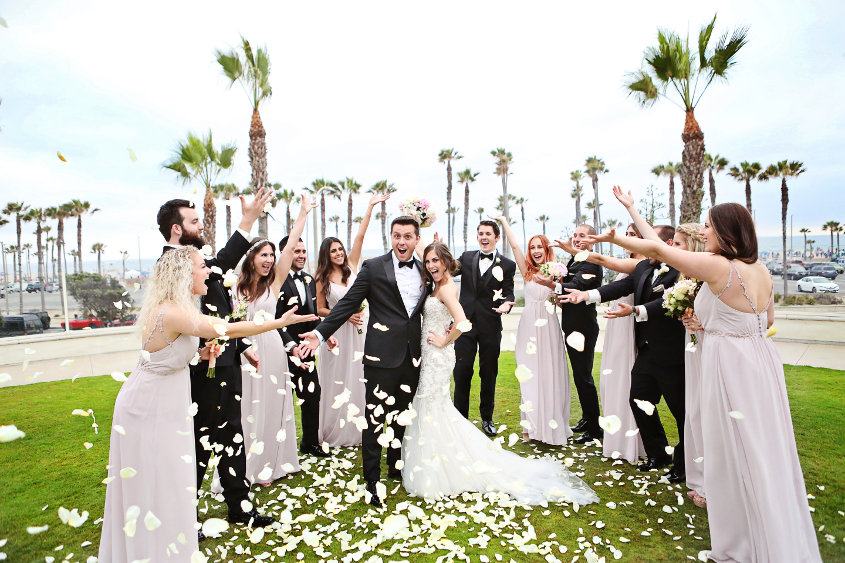 MY ADVICE...
"Make your own decisions, it's your day! Don't get so stressed or overwhelmed that you get overtaken by the wedding day. It will always work itself out and the actual marriage is what matters."
CREDITS
Photography | NIKKI AND MCCALL RYAN
Videography | NIKKI AND MCCALL RYAN
Enzoani Authorized Retailer | BLUSH BRIDAL COUTURE (Tustin, CA)
Wedding Planner | MELODY WALKER
Hair | ALLISON GREG
Makeup | VEDA FIKE (one of Carly's talented bridesmaids!)
Florist | AMANDA HEER, FANTASY FLORAL DESIGNS
Cake | CREATIVE CAKES
DJ | JUSTIN GARCIA