What Gown Are You Based on Your Harry Potter House?
14 Nov 2018
Fantastic Gowns and Where to Find Them
Hey, witches! While Halloween may be over, November marks the beginning of new tidings. For some, it may be cuffing season and others...engagement season! What would one wear if they were alumni from Hogwarts? Ilvermorny? We have the answer for our bride-to-be.
Hufflepuff
Featured Above (left to right): LOUELLA | Blue By Enzoani, LANDRY | Blue By Enzoani
Loyal, fair, and kind are a few words to describe a Hufflepuff. Their wedding day will be filled with those closest to the bride and groom - intimate and loving. This bride would wear a gown featuring delicate layers of tulle. Think of something similar to LOUELLA or LANDRY from our Blue by Enzoani collection. Both gowns will ensure that the bride will make an entrance with their sweet lace patterns and jaw-dropping skirts.
Pukwudgie
Featured Above (left to right): LEXANNE | Blue By Enzoani, LORENA | Blue By Enzoani
This bride will have serious boho vibes as her wedding will have elements pulled straight from a Pinterest board. Members sorted into this Ilvermorny house represent the heart of those bestowed with magical talent. Think of the LEXANNE or LORENA gowns from our Blue by Enzoani collection. Cascading lace on the LEXANNE gown will make the bride appear out of a dream, while LORENA will be sure to speak volumes of this bride's individuality.
Slytherin
Featured Above (left to right): NAYA | Enzoani, NIKITA | Enzoani
Ambitious, determined, and clever - Slytherins may have a bad rep among other houses, but don't let one bad apple ruin the whole batch. Slytherins are all about prestige and how they carry themselves. Confident and proud – this sort of house will want to show off with a fitted dress paired with an oh-so-dramatic train. We encourage Slytherins to try the NAYA and NIKITA gowns as both gowns embody sophistication while making a power statement for that walk down the aisle.
Thunderbird
Featured Above (left to right): LESLEY | Blue By Enzoani, NURI | Enzoani
This bride is usually traveling or out exploring in nature. You'll usually see an Instagram story of this bride in another country or a new post of their latest hiking adventure in a lush forest or a moody regional park. It's no wonder that this bride will want to have something in tune with nature. The LESLEY and NURI gowns offer the perfect lace with their bold floral patterns. These gowns are perfect for an outdoor wedding as brides can move with ease between greeting guests and moving on the dance floor.
Gryffindor
Featured Above (left to right): LAVENDER | Blue By Enzoani, NEVILLE | Enzoani
A Gryffindor is always daring with just the right amount of nerve. A wedding of this bride will be the talk of friends for years! Try Enzoani's NEVILLE or LAVENDER gown. The peacock sequined patterning of the NEVILLE gown is perfect for the bride who wants a patterned gown without the lace, while the LAVENDER gown adds a twist to the traditional A-line silhouette with its plunging lace neckline and gorgeous open back.
Wampus
Featured Above (left to right): NURIT | Enzoani, NICO | Enzoani,
Fierce, strong, and independent, those under the Wampus house are brides looking for a gown that isn't just about a dramatic train or curve-hugging silhouette, but the immediate details. We love NICO for its layers of delicate tulle as its gorgeous lace appliques lay gently on top. The transition between its soft georgette bodice and its sultry plunging neckline to its lace skirt make it a gown from only a dream. NURIT is our second pick as this gown can easily be transformed from an alluring mermaid silhouette to a traditional A-line gown with a lush sequin embroidered tulle skirt to take any bride from the ceremony to the reception's dancefloor!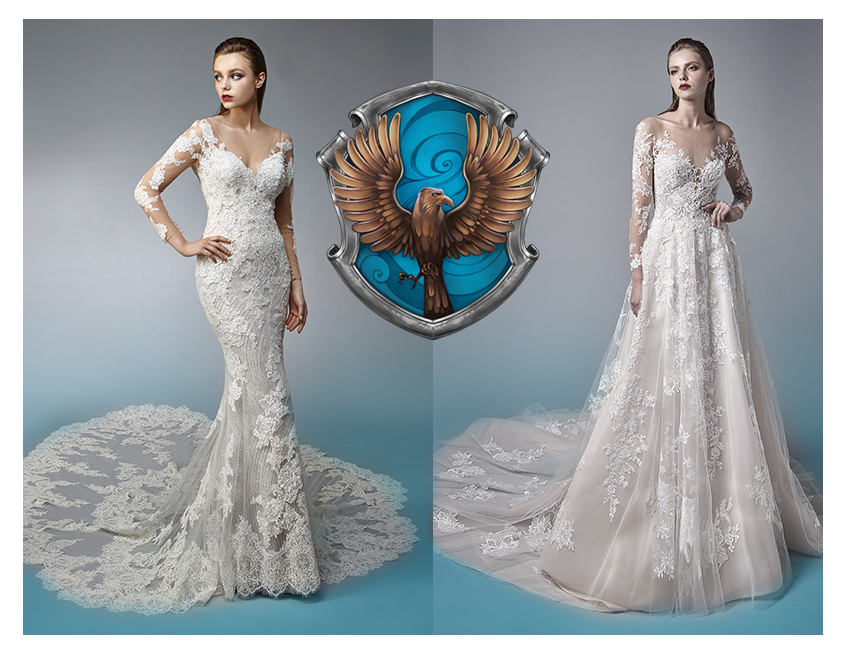 Ravenclaw
Featured Above (left to right): NICOLETTE-B | Enzoani, LYSANDRA | Blue By Enzoani
A Ravenclaw is certainly the friend who works in a creative agency or maybe has a big following on Instagram. This house is known for its intelligence, creativity, and wisdom. It's no wonder that their gown will be something with intricate lace long sleeves. The lace details of the NICOLETTE-B sleeves paired with its long lace train would be a perfect fit for those who want something more sultry and alluring. For a royal fit, the LYSANDRA gown would be ideal for a Ravenclaw as well.
Horned Serpent
Featured Above (left to right): NORINE | Enzoani, NOLEN | Enzoani
Those under this house have traits that represent the mind of a witch. Thoughtful and careful of their actions, this bride will take into consideration her opinions of those closest to her for the perfect wedding day. Intricate laces and dramatic trains are on this bride's checklist. Try NORINE as this gown is sure to wow your guests with its dramatic train and high collar finish, while NOLEN is a classic mermaid silhouette with Enzoani's signature dramatic tiered train.